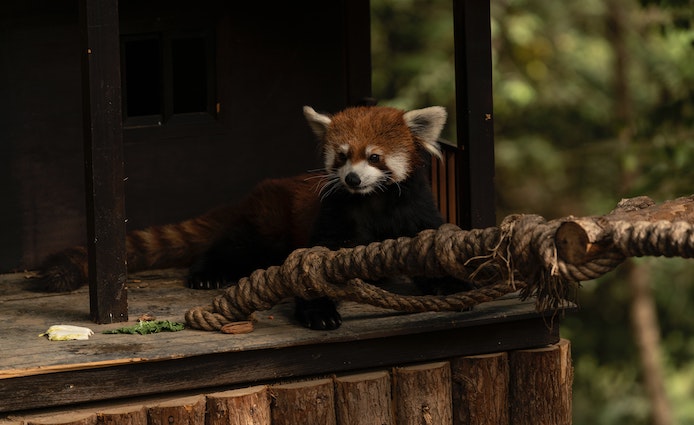 Kunming Zoo, 92 Qingnian Road, Wuhua District (a few hundred meters northeast of Green Lake and a few hundred meters east of Yunnan University; buses 4, 59, 74, 83, 100, 101, 129, 234 and a2 go to Yuantong Hill on the southeast side of the zoo; buses 4, 22, 59. 74, 83, 100, 101, 129, 234, a2, and z63 go to the north entrance), 07:30-18:30, no entry to the large animal section after 16:30. The Zoo was built in 1953 and has over 300 species. There is a peacock garden, butterfly enclosure, aviary, and aquarium. In spring the zoo is reputed to be a sea of flowers, in particular the blossom of cherry trees and weeping Chinese crab apple trees. Overall the zoo is a pleasant enough place but with a slight air of weariness and decay about it. Local people also use it as a place for performing exercise or playing cards and mahjong. ¥20 for general entry with a further ¥80 for the circus.
Yunnan Wildlife Park, Chuanjin Road, Panlong District (bus routes 235, 241, and 249; you can catch bus 249 from Fengyuan Road, just outside the Longtou Street Station on Metro Line 2), 09:00-17:30, no entry after 16:30. ¥100.
Baohai Park, 121 Baohai Road, Guandu District (Northeast of the Kunming International Convention and Exhibition Centre. Bus routes 122 and k52), 08:00-19:00. The park covers an area of 250 mu (16.67 hectares) and is one of Kunming's largest modern parks. It features camphor, azaleas and other native plants.
World Horti-Expo Garden, 10 Shibo Road, Panlong District (bus routes 47, 69, 71, 182, 204, 228, 235, 249, a12, a1, k18 and k43), 08:00-17:00. The garden was constructed for the 1999 Kunming International Horticulture Exposition but is still in use and displays a wide variety of plants. It attracts many locals who can buy annual tickets at a fraction of the cost charged to foreigners and is a popular site for wedding photographs. ¥70 to visit this park only. A combo ticket, which includes entry to both this park and the World Horti-Expo Garden as well as a return trip on the cable car connecting the two places, may be purchased for ¥130.
Photo Credit: Unsplash
Reference: Wiki Travel
If there's any copyright issue involved, please contact us to delete.