By Ma Tongchun, a local resident and senior English-speaking tour guide with over 30 years of professional experience.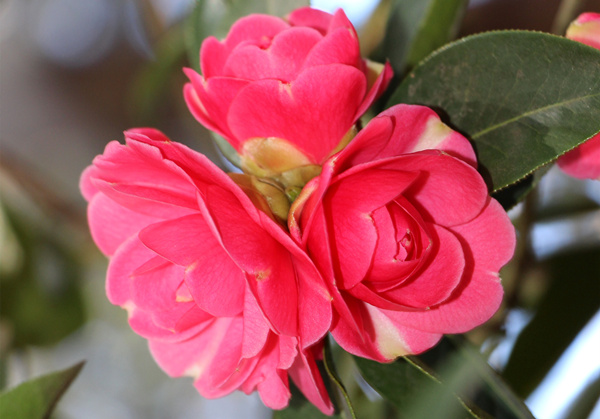 The 2012 International Camellia Congress and the 8th China Camellia Expo was held in Chuxiong of Yunnan in 2012 and the 2016 International Camellia Congress and the 9th China Camellia Expo is set to take place in Dali in 2016. I'm SURE that another international congress and China Camellia Expo will be held in Kunming some years later. Why? That is because Kunming is one of the famous places for Yunnan camellia horticulture.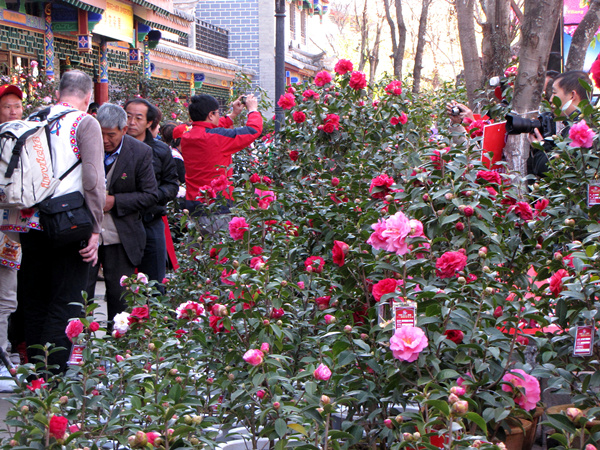 The 2012 International Camellia Congress was held in Chuxiong 150 km from Kunming
Yunnan Camellia also called Dian Camellia belongs to the Camellia Genus, Camellia Family, which originally grows in Yunnan and features tall trees, wide and thick leaves as well as big flowers.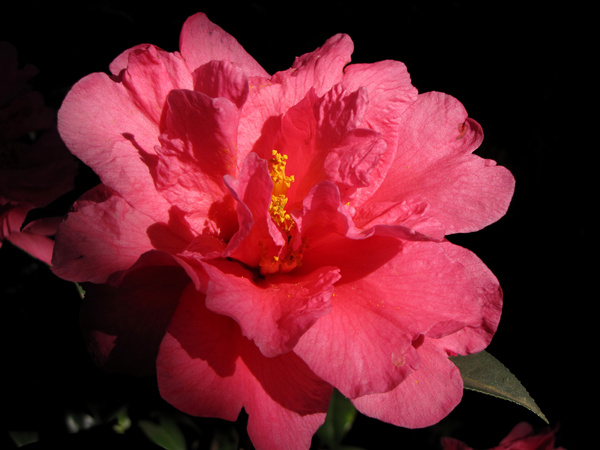 Camellia is one of the traditional flowers of China and one of the Eight Famous Flowers in Yunnan Province and most importantly is the city flower of Kunming. It has a history of planting of over 1,000 years. As an oil-plant and stem resource for new specie grafting, it is now the plant of the second class under the state protection. There are more than 130 species of planted camellias in Yunnan.
Traditional Camellia Species in Yunnan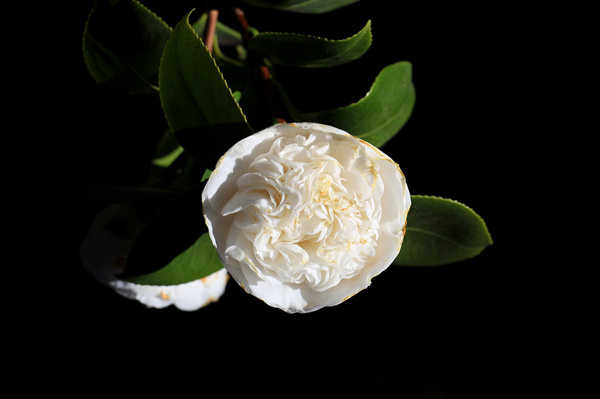 (1).Shizitou (lion head or 9 stamens and 18 petals) retuculata camellia
(2).Dali retuculata camellia
(3).Songziling (pine cone scale) retuculata camellia
(4).Zipao (purple robe) retuculata camellia
(5).Damanao (big agate) retuculata camellia
(6).Zaotaohong (peach scarlet) retuculata camellia
(7).Juban (Chrysanthemum petal) retuculata camellia
(8).Tongzimian (kid cheek) retuculata camellia
(9).Hentiangao (heaven vying) retuculata camellia
Camellia distribution and environment in Yunnan
Yunnan camellias naturally grow at the shadow sides and moist parts of mountains and distribute in the western, northwestern and central areas of Yunnan Province at the altitude of 1,900-2,600 metres above the sea level, including Tengchong, Yongping, Jingdong, Fengqing, Weishan, Dali, Lijiang, and Kunming, Songming, Fumin, Wuding, Luquan, Lufeng, Chuxiong, Luliang, Qujing, Yimen etc.
The Golden Temple Park of Kunming has a large plantation of Yunnan camellias
There are still quite a few ancient camellias of the Yuan, Ming and Qing dynasties in some temples for its long history of planting. Mostly Yunnan camellias grow wild in mountains and some were planted in the ancient temples, gardens and family yards, so people can see camellias in the mountains and gardens in middle winter and the whole spring in many places of Yunnan.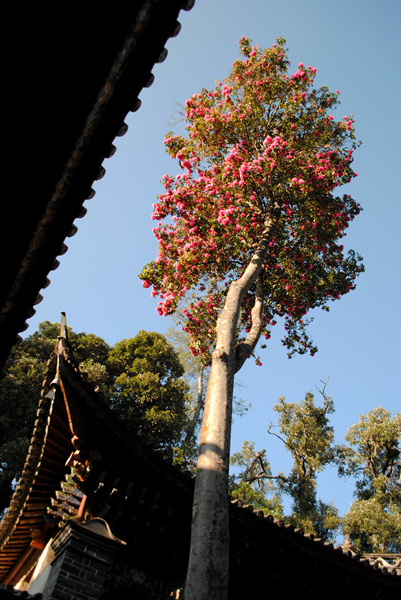 The 17-metres-high camellia tree at Weibao Mt in Dali is the highest of its kind in the world
The features
Yunnan camellia is an ever-green tree, usually 8-16 metres high, the trunk can be 50 cm in diameter, the bark is grey-brown, the twig is yellow-brown, the leaves are trifoliate, leathery, oblong and lanceolate and 5-15 cm long and 3-7cm wide. The color of the flowers are pink to dark red, usually 1 or 3 flower grow on the twig or branches and 5-18 cm in diameter, with 5-7 sepals, 5-7 petals, double flowers with 30-60 petals. Flowering time: October to May next year.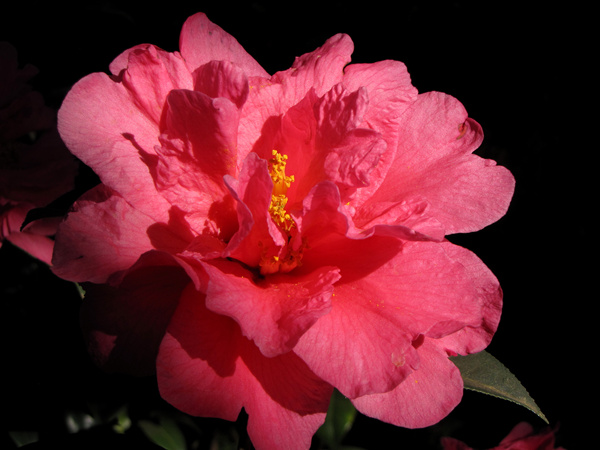 Flowering stage: 1-3 months and the various camellias in Yunnan can be seen for 7-8 months and thus the lasting flowering stage makes it a very good ornamental plant.
Kunming camellia festival
As one of the major annual events in Kunming, the festival has several venues in the city including the Green Lake Park, the Golden Temple Park and Kunming Botanical Garden etc.
Famous Ancient Camellia Trees in Yunnan
1.Yufeng Temple camellia tree (Lijiang): the No.1 camellia tree in the world, about 500 years old grown in Yufeng Temple in Ming Dynasty (1368-1644), bearing about 30,000 flowers every year.
2.Panlong Temple camellia tree (Jinning County, Kunming), over 15 metres tall, the oldest camellia trees in Yunnan, planted in the Tang Dynasty (618-907).
3.The Black Dragon Pool Park camellia tree (Kunming): over 15 metres tall, grown in the Ming Dynasty (1368-1644), over 400 years. Dr. Guo Moruo wrote a poem in praise of it.
4.The Golden Temple camellia tree (Kunming): over 10 metres tall, grown in 1602 of the Ming Dynasty (1368-1644), over 400 years old.
5.Xiaojie Ancient camellia tree (Songming County, Kunming): over 5 metres tall, planted in the Qing Dynasty (1644-1912).
6.Puji Temple camellia tree (Luliang County, Qujing): over 10 metres tall, planted in the Ming Dynasty (1368-1644), about 400 years old.
7.Heiniushan Ancient camellia tree (Chuxiong City): over 900 years old, 14 metres tall, naturally grown in the Dali Kingdom Period (938-1253).
8.Weibao Mt Ancient camellia tree (Weishan County, Dali): over 17 metres tall, p