Rice noodle is the ubiquitous food in Kunming. There are many various of rice noodle. You can easily find a restaurant that specialise in rice noodles in Kunming and to try the delicious food.
Cross-Bridge Rice Noodle
Cross-Bridge Rice Noodle is one of the most well-known rice noodles dishes in Yunnan cuisine. It is the first choice for every tourists who come to Kunming. The dish is served with a large bowl of hot soup, and all other ingredients are separated.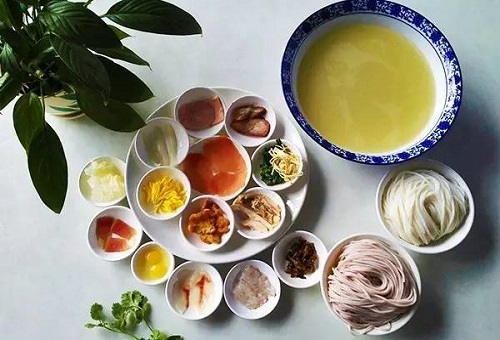 The most common ingredients are raw quail eggs, very thin slices raw pork, several pieces of chicken and rice noodle. Once Added into soup, it cooks quickly because of a layer of goose oil on the top can keep heat preservation. Add flower into dish is a special feature of Yunnan cuisine. The traditional Cross-Bridge Rice Noodle adds the edible chrysanthemums, makes the taste more delicious.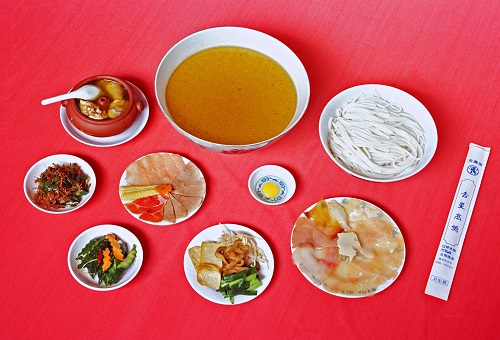 Rice noodle in Small Pot
Xiaoguomixian literally means rice noodle cooked in a small pot. And it has been a major main course among local Kunmingers. Soft and white rice noodle, cooked with minced pork, some Chinese leek, and some local produced pickled vegetable warm local people and even visitors' hearts from the very first bite. For those who'd live in Kunming a long time would call this simple dish "the taste of Kunming".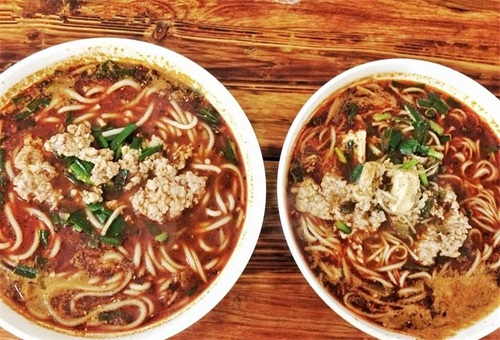 What makes it so special then? Well, first, the rice noodle and other ingredients have to be cooked in a small copper pot, which has a long panhandle for the cook to hold it tightly and also to prevent the cook getting burnt by the pot. And one small pot could only make one bowl of Xiaoguomixian each time.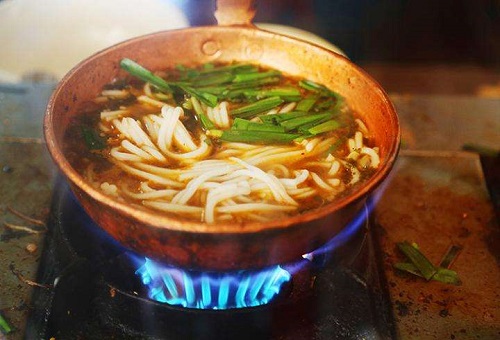 Boiled Rice Noodle with topping
In Kunming, the most common way is boiled rice noodle. The boiled rice noodles and broth, add the topping chosen by the diners, are definitely the best choice for breakfast. There are many choices of topping, such as chicken, pork, beef, lamb, miscellaneous sauce and etc.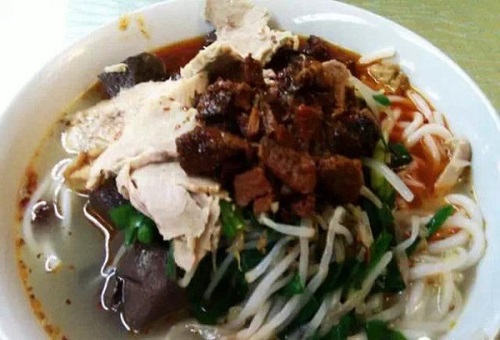 Miscellaneous sauce is made by Zhaotong Sauce, sweet sauce, bean paste, chilli sauce, tahini, peanut butter and other secret ingredients. Stir fry pork mince and peanut with miscellaneous sauce that is the delicious topping of rice noodles.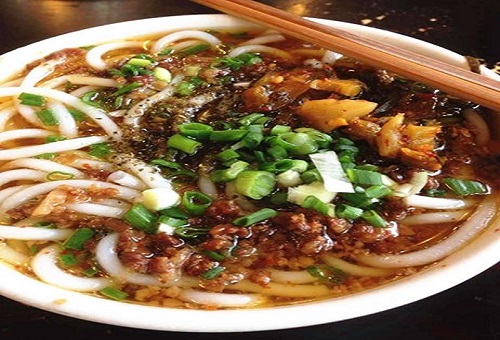 Douhua Mixian (Rice Noodle with Bean Curd)
Douhua Mixian (or rice noodle with bean curd) has been one of the recognised local snacks in Kunming for a really long time. Its ingredients including a bowl of some boiled rice noodle, two spoonful of soft bean curd, some tasty pork chili sauce, and some chopped Chinese chives and some dried preserved cabbage and a pinch of salt and some sweet soy sauce.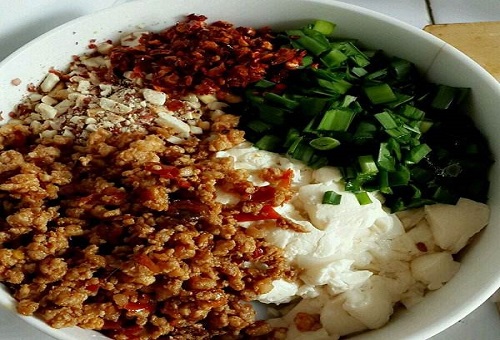 Although add chilli sauce, bean curd and the sweet soy sauce will combined the spicy taste, make it mild.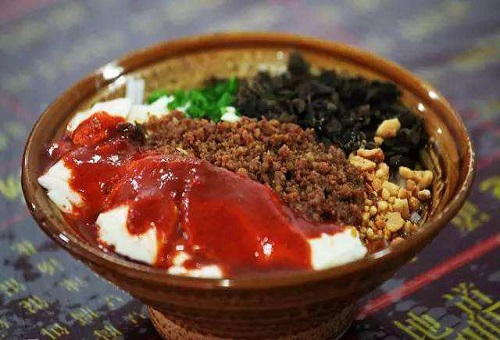 Fry Ricce Noodles
Fry rice noodles with mince, sweet soy sauce, salty soy sauce, chives, peppers, cabbage and other ingredients. After the pot, the color is red and bright, makes you feel hungry.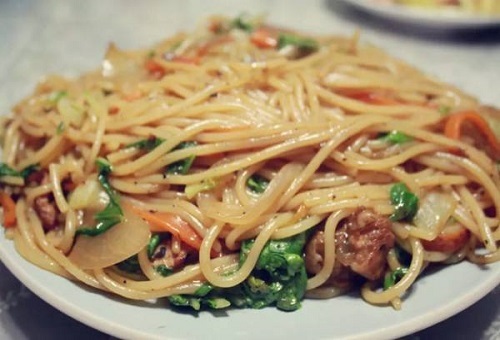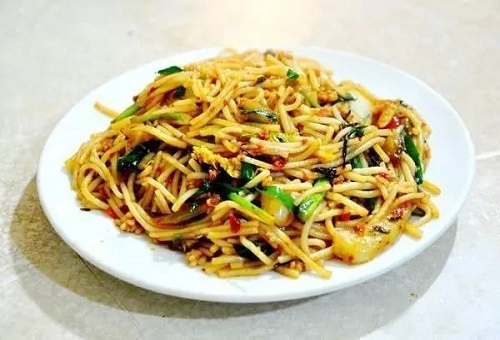 Cold Rice Noodles
Cold rice noodles is one of the most enjoyed food in Kunming.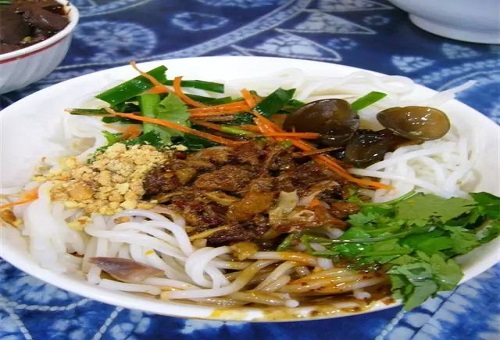 In a hot day, the cold rice noodle is the best dish to cool off. Sliced vegetables, crushed peanuts, and chives are all the highlights of the cold rice noodles. The sweet and sour flavour of cold rice noodle is made by the sweet soy sauce and vinegar dressing.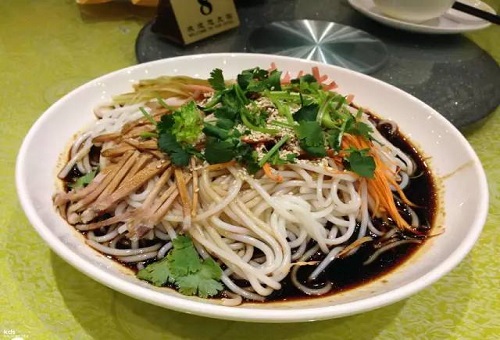 Guanguan Rice Noodles
Guanguan in Chinese means small earthenware jar, put rice noodles in guanguan then add broth, mint, stinky tofu and picked vegetables. Put the jar on the roast rack to heating by low heat, before it ready put one spoon of meat sauce in, the rich and fragrant smell makes people appetite.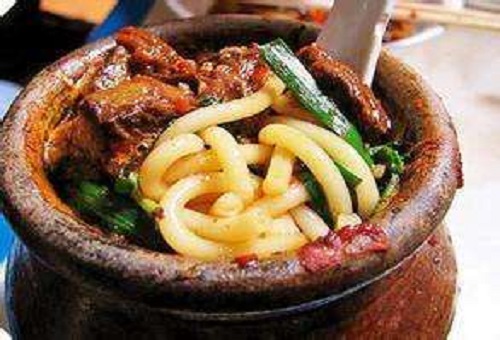 On the basis of the guanguan rice noodle, there are also a series of guanguan food such as guanguan seaweed, guanguan potatoes. It is also a common street food in Kunming.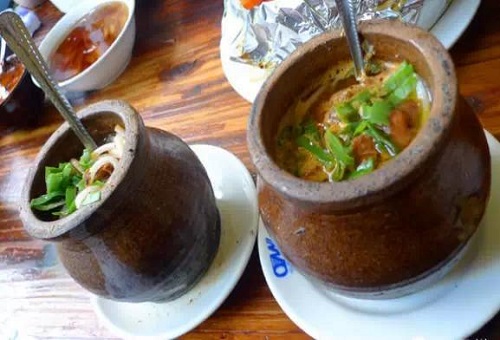 Casserole Rice Noodles
The method of cooking casserole rice noodles is very simple. Only need to put all the ingredients into casserole then add stock to cook. The taste is light and delicious suit for everyone to try.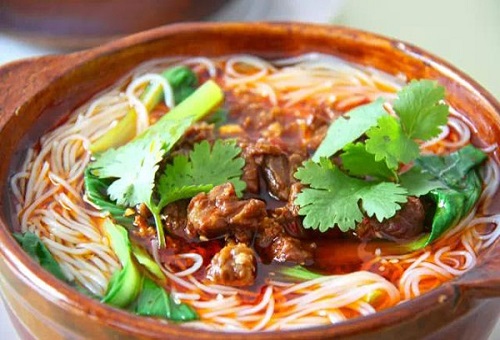 部分图文章整理自网络,转载需注明出处!
免责申明:
我们尊重原著者的付出,
如果侵犯了您的权益,请联系我们删除或索要稿费。