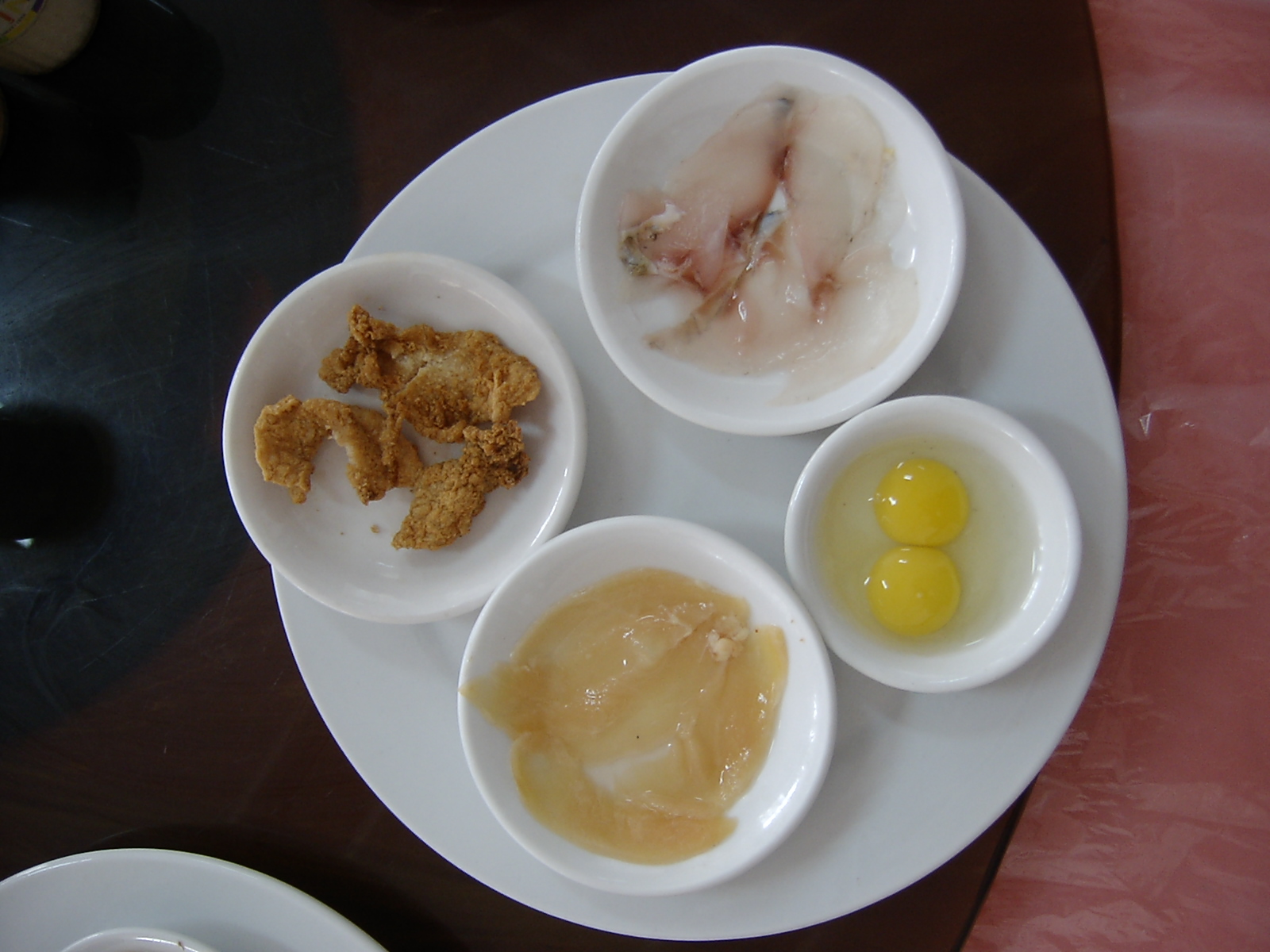 Guoqiao Rice Noodles is a dish that has long been famous in Yunnan. "Crossing the bridge" or "Across the bridge" rice noodles, is Yunnan's best-known dish. Typically it consists of a bowl of chicken stock, to which diners add their own selection of paper-thin meat slices, rice noodles (mixian), vegetables and spices, much like a hot pot.
The main ingredient of the noodles is rice. Rice vermicelli production is quite different in many regions. In particular, in Kunming, Yunnan, there are two varieties such as "dry paste" or "sour paste". The production process differs, because of individual preferences and tastes. The distinction is quite simple, "sour paste", as the name suggests tastes a little sour, but obviously it is characterized by a relatively thick and soft rice noodle. The "dry paste" does not have the sourness of the sour paste, and the noodle is relatively thin and more rigid.
Preparations
Cut all the meat species into thin slices and put them on a plate, first scald those which have an unpleasant smell.
Scald the rest of the ingredients, drain, and cool, cut into sections, put on another plate.
Place minced coriander, scallion, chili oil and the scalded rice noodles on plates.
Take all the plates to the table.
Put 7-fold heated chicken oil in a bowl, pour on boiling soup stock, add seasonings and take to the table.
Scald the meat slices in the bowl till they become white, scald the greens, drop in the rice noodles, and sprinkle on minced scallion and coriander.
Cooking Directions:
Blanch the spinach or rape briefly in boiling water, drain, and set aside. Mix the rice wine, ginger, 1/8 tsp. of the salt, and the soy sauce into a marinade. Slice the chicken, fish, and prawns paper-thin. Spread out on a serving platter and add the marinade.
Heat a pot of water to boiling and add the noodles. Bring back to a boil and cook uncovered until they are soft, about 4 minutes for dried noodles and 2 minutes for fresh ones. Drain in a colander and lay the spinach on top.
Bring the chicken broth to a boil in a saucepan and add the remaining 1/2 tsp. of salt, and the chicken fat. Bring to a fast boil for 1 minute. Transfer to a tureen, previously filled with hot water and then drained, and bring to the table with the platter of meats and the colander of noodles.
Pour the meat and noodles into the boiling hot broth. They will cook instantly. Stir and serve in individual bowls.